I Feel Pretty
(2018)
Hai, că sunt belea!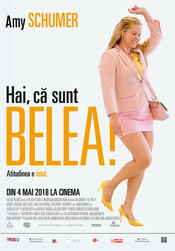 Regia
Abby Kohn, Marc Silverstein
Cu
Michelle Williams, Emily Ratajkowski, Busy Philipps, Amy Schumer, Tom Hopper
Rating
Distributie
Michelle Williams


Avery LeClaire

Emily Ratajkowski

Busy Philipps


Jane

Amy Schumer


Renee Barrett

Tom Hopper


Grant LeClair

Lauren Hutton


Lily LeClaire
Sinopsis I Feel Pretty
A woman struggling with insecurity wakes from a fall believing she is the most beautiful and capable woman on the planet. Her new confidence empowers her to live fearlessly, but what happens when she realizes her appearance never changed?
Trailer I Feel Pretty
Caseta tehnica
AKA
Produs de
Huayi Brothers Pictures
Distribuitorul international
STX Entertainment